The PaperCha$e
on
September 18, 2009
at
7:00 am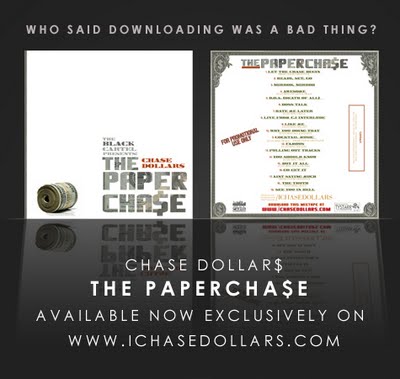 See the pic above? Click it and download it now! Unless you despise rap then you really shouldn't click.
"The PaperCha$e" is rapper Cha$e Dollar$' freshman mixtape release featuring new upcoming rappers and producers. Its hard, lyrical, clever, brutally honest and surprisingly catchy. A must hear for anyone longing for some good ol' hip hop music.
Its been a looooong trip to get to this point but the mixtape is finally here and I must say, I approve. 19 hits, no skits, so download it and be sure to come back to tell me what y'all thought of the compilation.
Oh yeah, Parental advisory for crude language, sexual innuendo and yadda yadda yadda.
Speak Your Mind!